On January 31, 2023, Liu Yantong, Vice President of the Digestive Surgery Department of Xi'an International Medical Center Hospital, Li Guocai, Director of the Digestive Surgery Department, Xu Zeyu, the doctor in charge, and the medical team of the department jointly sent flowers to Li Hong (alias), who was discharged on the same day, and sent them the most sincere wishes.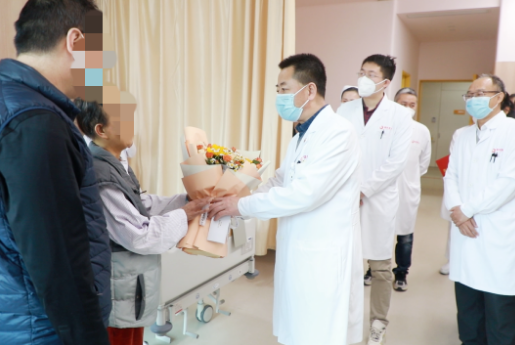 Illness invades life and hangs a thread
On June 30, 2022, 48-year-old Li Hong was admitted to the third ward of digestive surgery due to abdominal pain. Based on her medical history, physical examination and examination results, she was considered to be diagnosed as: intestinal fistula, mesenteric vein and portal vein thrombosis, severe abdominal infection, lung infection, multiple serous cavity effusion, abnormal liver function, and myeloproliferative tumor. Li Hong is extremely weak, 152 cm tall, and weighs less than 35 kg. In addition to the above main diagnosis, she also has anemia, multiple electrolyte disorders, hypoproteinemia and other basic diseases, which are extremely poor.
Li Hong's illness is long, complicated, difficult to treat and extremely risky. The hospital leaders attached great importance to her. Zhao Qingchuan, Executive Director of the Digestive Hospital, and Li Guocai, Director of the Third Division of Digestive Surgery, led the medical team to evaluate and discuss her condition for many times, and timely initiated multidisciplinary expert consultation according to the change of her condition, so as to continuously improve and optimize the treatment plan.
Life is supreme, every minute counts
Xu Zeyu, the doctor in charge, can't remember how many critical value alarms have popped up in Li Hong's electronic medical record system, how many difficult medical record analysis meetings and MDT multidisciplinary consultations have been held in the department, how many days and nights he has been staring at the ECG monitor beside the hospital bed, and how many times he has reviewed the documents and data in front of the computer to analyze and summarize the treatment plan, and how many times the nurse has changed the dressing for the wound. It is the patient's will to survive and the sincere trust of family members that always inspires the fighting spirit and determination of medical staff.
After three times of abdominal surgery treatment and digestive surgery, the operation team in the three wards successively found and solved Li Hong's problems such as massive intestinal ischemia and necrosis, extensive peritoneal bleeding, and massive bleeding during operation. After three times of stable treatment in the Department of Critical Care, they were transferred to the department for continuous treatment. The doctors and patients jointly overcame the most dangerous situations that gastrointestinal surgery can encounter.
After the storm, there will be a rainbow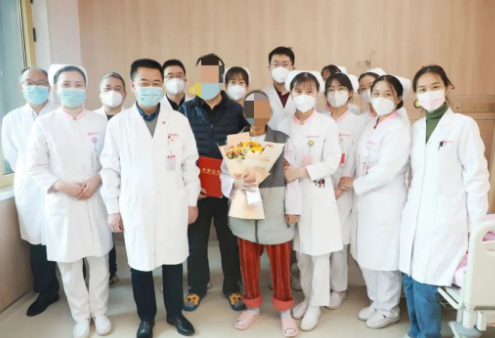 After 215 days, under the careful treatment of medical staff and the care of her husband, Li Hong went from severe infection of multiple organs, intermittent high fever to reduced infection and normal temperature; From complete fasting and water prohibition to normal diet; From severe jaundice to bilirubin reduction and normalization; From long-term lying in bed, muscle atrophy to weight gain, get out of bed, finally overcome the disease, turn the corner, and recover from hospital.
When Li Hongkang returned to the hospital, the medical record data had accumulated more than 2000 pages. Each page of data records not only her tenacious struggle against disease through hardships, but also the unremitting and unrepentant efforts and contributions of medical staff. Protecting the life and health of patients is the most beautiful rainbow painted by doctors.